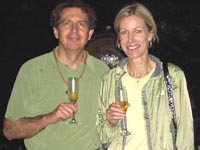 NewZealandFoodandWineTV.com is a service from L & R Imports LLC. We are a Kiwi and American partnership between Leslie Havard and Ron McFarland.
In our 24-year history, we have watched and enjoyed the evolution of food and wine within New Zealand. We delight in sharing the experience with others.
NewZealandFoodandWineTV.com is the leading resource for meeting the dedicated people whose talents have provided truly unique food and wine experiences to others. Through this website we share their engaging stories with the world.
We also share our passion for travel to New Zealand. Each journey brings new discoveries. A single word best describes it. Magic!
The worldwide growing interest in artisan wines, foods and adventure travel led to the creation of www.NewZealandFoodandWineTV.com. This is the first in a series of video web sites that will enable you to meet and visit the people who are at the leading edge of wine, food and travel. Over time, the series will include the regions of Italy, France, Spain, California and Australia.
If you would like join us and include your story, please email or give us a call in Colorado.
Ron McFarland
221 South Garfield St #209
Denver Colorado 80209 USA
720 233 5565
email
terms of use | contact
copyright 2007 New Zealand Food Wines